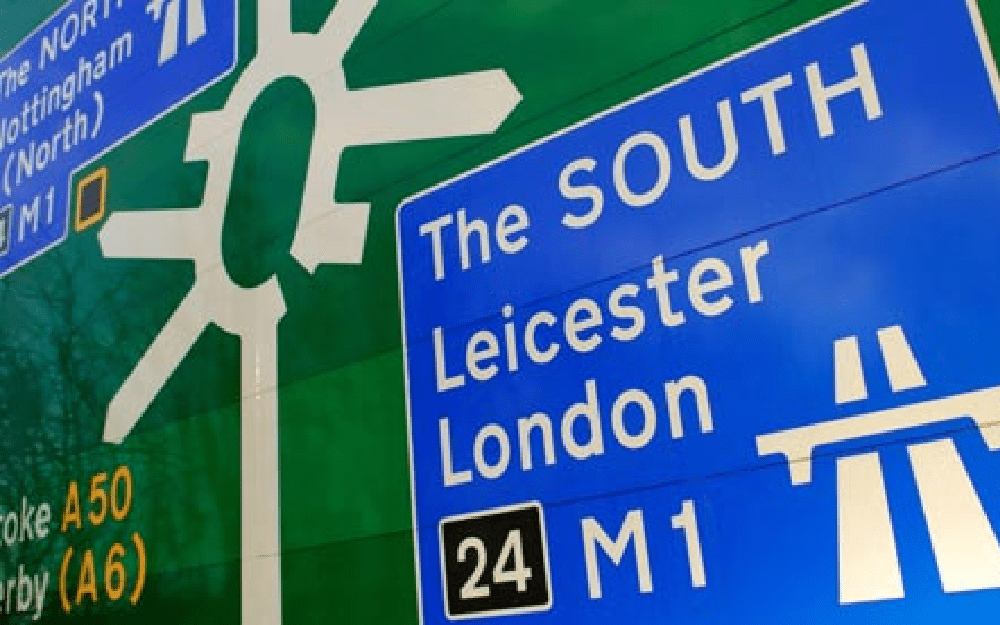 One of the great advantages of running on an online recruitment platform is being able to generate data about candidates. I suppose in the online dating world it would be the equivalent of working out how many of your clients are into gothic romance novels or extreme ironing (yes, it really is a thing – apparently).
NQ Solicitors' stats may not be as quirky, but in their own way are just as fascinating.
A recent set of statistics (shown on the graphs below) makes interesting reading for firms looking to hire solicitors at NQ to 2 PQE. The data is taken from the 400+ final seat trainees and NQs who have registered on nqsolicitors.com since the platform was launched in November 2016.
By way of background, when candidates register with us they are asked a series of questions about their academic record and legal experience to date. But, due to the fact that NQSolicitors uses a unique two-way matching process, we also ask candidates about their work preferences in relation to the type of firm they want to work for, their preferred department, their minimum salary and their preferred location.
As you can see from the first graph, 90% of final seat trainees and NQs who trained in London are unwilling to relocate and only 7% would consider locating. Just 3% actively want to relocate away from the capital.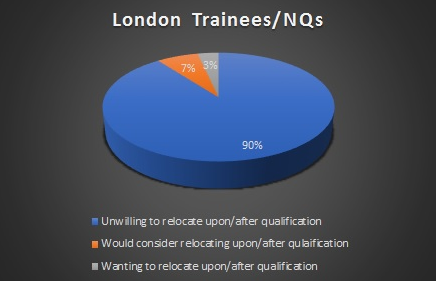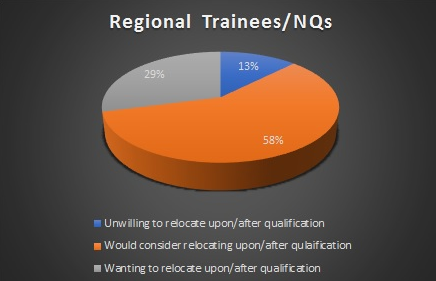 While very few of you will be surprised to hear that London acts as a magnet for young professionals, it's fascinating to juxtapose these figures with the comparable statistics for regional trainees and NQs. Only 13% of candidates who trained in the regions are unwilling to relocate, with 58% willing to relocate and 29% actively looking to relocate.
What conclusions can hirers draw from these statistics?
Two obvious conclusions are as follows:
1. Firms located in the regions are far less likely to recruit junior lawyers from London than from outside; and
2. City law firms can have rich pickings from both inside and outside the capital.
So, on the face of it, London-based firms are at a distinct advantage when it comes to the recruitment market for NQ Solicitors. But do large City firms really see it this way?
Regional firms don't seem to feel disadvantaged by point 1, because they are more than happy to recruit lawyers who have trained in the regions. Rather, point 1 is more of a concern to City firms who are looking to recruit junior lawyers for their lower cost regional outposts, because their preference, rightly or wrongly, is for NQs who have been 'City' trained.
This preference for 'City' trained NQs also renders point 2 irrelevant to City law firms.
These statistics indicate that a change of mindset may be needed by some City firms if they are to recruit successfully for their regional offices and take advantage of London's pulling power when recruiting in the capital.
From our point of view, the data we gather when candidates register with our platform gives us a much broader view of the market for NQ solicitors than is available to most recruitment companies.
It also allows us to identify precisely, and at the outset, what candidates' geographical preferences are. Few things are more frustrating for hirers than candidates being pushed into an interview by a recruiter only to find that they don't want to relocate to where you are, or that they actively want to relocate away from where you are.
Data is starting to play a big part in recruitment, as we wrote about in our recent blog, How the correct use of big data can help law firms find the best NQ solicitors. The important thing is to gather the right data and then use it to inform the way you work in order to match candidates with hirers.
Watch this space for more analysis from us on the NQ Solicitor recruitment market. (Note: as things stand we have no plans to ask candidates if they are into extreme ironing).