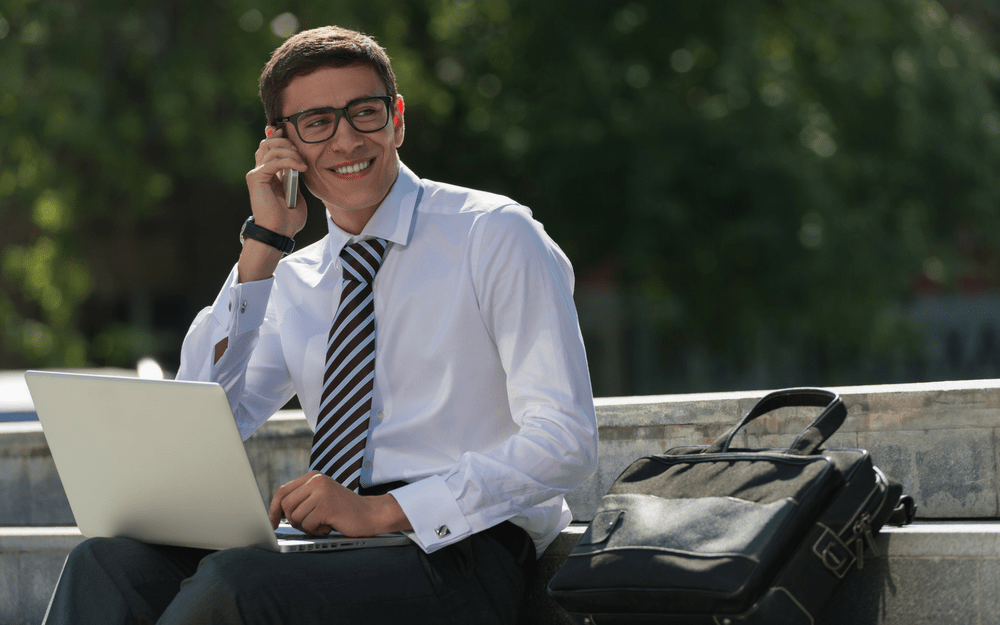 When candidates create a profile on NQSolicitors.com, we ask them about a dozen questions regarding their academic record and legal experience to date, and a further four questions about their specific work preferences.
In order to accurately match their profiles with law firms that are looking to hire, we need to know:
their preferred location(s);
their minimum salary requirement;
the department or practice area within which they would like to work; and
the type of firm they want to join.
When designing the platform, we spent lots of time mulling over the length and content of the list of practice areas we would include on the site. As every law firm names their departments or practice groups slightly differently, the list could easily run to more than 200. But in the end, we settled on a list of 75 distinct practice areas from which candidates can choose their preferences, (and they can obviously select more than one).
We thought it would be interesting to dig into the data and tell you which practice area is the most popular for trainees and junior solicitors at NQ-2 PQE.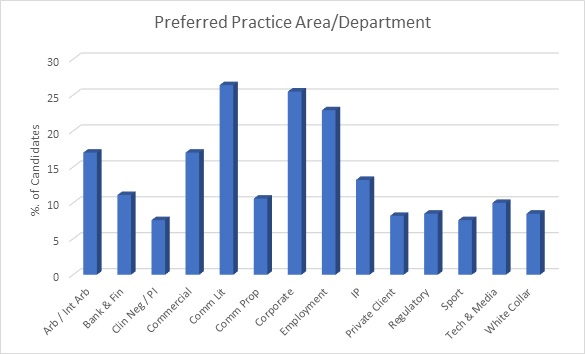 If you think that Commercial Litigation and Corporate departments are the most popular destinations for junior solicitors, then you'd be right, (26.4% of candidates selected Commercial Litigation as a preferred department, and 25.5% selected Corporate).
Employment was comfortably the third most popular choice (22.9%), while other distinct practice areas which are popular destinations for junior solicitors include IP (13.2%) and Banking & Finance (11.1%).
While Arbitration/International Arbitration and Commercial are clearly popular choices as distinct practice areas, they are generally selected by candidates who also select associated practice areas.
For example, candidates who select either Arbitration or International Arbitration generally also select Commercial Litigation as a preferred practice area, and are clearly keen to join some kind of Commercial Disputes department. Similarly, candidates who select Commercial as a desired practice area, generally also select Corporate and are clearly motivated by working within a transactional practice group.
The pie chart below shows the results when we apply our data to The Legal 500's broader groupings of practice areas.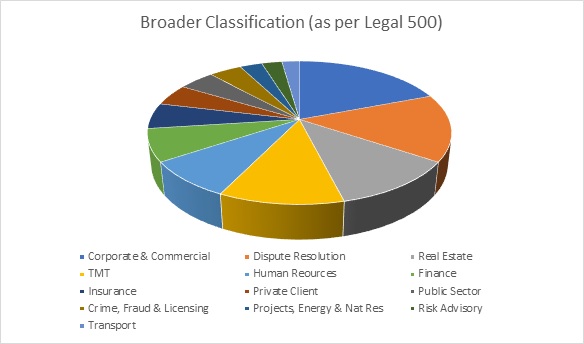 Having grouped individual practice areas together within wider banners, 'Corporate and Commercial', (which includes Commercial, Corporate, Corporate Tax, Competition/Antitrust, Equity Capital Markets, Financial Services, Partnership and Private Equity) now leaps to the top of the popularity league table, and by a reasonable margin, ahead of Dispute Resolution (which encompasses seven distinct practice areas), Real Estate (nine) and TMT (five).
If you source candidates through NQSolicitors.com (and why wouldn't you?), it is worth bearing in mind candidate habits/behaviours when setting your search criteria.
If, for example, you have been asked to source a first-rate junior solicitor for your Disputes practice, it would be wise to include multiple practice areas (you can select up to three), within your vacancy details e.g. Commercial Litigation, International Arbitration, and Arbitration.
If your Corporate department, (which in reality undertakes a broad mix of Corporate, Commercial and Equity Capital Markets work), wants to hire an NQ, you should include all three of these practice areas within your vacancy details, as it will generate a greater number of matches.
If you have any questions about optimising your results when searching for candidates on NQSolicitors.com, please don't hesitate to contact us.