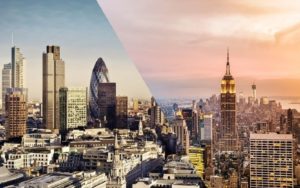 In the first part of a two-part blog, we look at the salary war currently engulfing the large US firms and what this means for newly qualified solicitors, mid-level associates and top UK law firms.
These are joyful days for NQs and associates at top US firms. While they are racking up the chargeable hours, their bosses are waging a pay war that benefits no one more than themselves.
They can thank Milbank for lobbing the first grenade. The New York-based firm has increased NQ salaries to an industry high of $190,000 (c.£144,000), rising to $330,000 (c.£250,000) for lawyers with eight years PQE. The raises will apply to UK-based lawyers as well as their colleagues in the US.
On announcing the hike, London co-managing partner Julian Stait said: "The firm continues to do extremely well and we have an exceptional group of associates.
"We want to be at the top of the market," he said. "But it's not done to take part in a race. We take the view that we're not just market leaders in compensation, but also in how we train our associates. Our greatest asset is our people."
They might not have wished to start a race, but they may as well have put on some shorts, stretched their hamstrings and asked somebody to fire a starting pistol. Not to be outdone, the firm Milbank toppled as the market's leading payers, Cravath Swaine & Moore, quickly reacted by announcing only days later that it too is bumping pay rates. It is not only matching the NQ salaries offered by Milbank, but fourth-year associates at Cravath will receive $5,000 more than their Milbank counterparts, rising to $10,000 for sixth-year associates. Additionally, Cravath is offering bonuses to its associates, starting at $5,000 and rising to $25,000 a year for those with six years PQE and beyond.
Other US firms have quickly followed suit: Quinn Emanuel, Simpson Thacher, Akin Gump, Kirkland & Ellis, and Latham & Watkins have all upped their salaries along similar lines.
So, where does this leave the magic circle firms and other leading UK firms?
Only Clifford Chance and Freshfields Bruckhaus Deringer of the UK's major players have matched the new norm in a bid to compete (salary wise) with the US firms for the top talent.
Is this news really as good as it sounds for associate lawyers? They will be paid a lot of money, but I can't escape the feeling that these US firms will expect even more blood, sweat and tears from their associates. But how much more can they reasonably expect from their associates, many of whom are already overworked and overwrought?
Not only is their already skewed work/life balance likely to suffer further, these stratospheric salaries will do nothing to improve their already slim partnership prospects. And, if the market takes a downturn, their jobs, with their expensive salaries, are perhaps even more likely to be the first to be cut.
It brings to mind the famous quote by film director Alfred Hitchcock. "When an actor comes to me and wants to discuss his character, I say, 'It's in the script.' If he says, 'But what's my motivation?' I say, 'Your salary.'"
Of course, not everyone is motivated by salary alone. Firms who can't (or refuse to) compete on pay might want to consider what else they can offer junior lawyers. If salary is not the be-all and end-all (and I know from experience that for many people it isn't), what should firms be focusing on as they try to attract talent away from the mighty dollar?
This is the subject of the second part of this blog when I will consider how firms can use the quality of the work they undertake, career prospects, work/life balance, and their working environment in an attempt to entice the best junior lawyers.